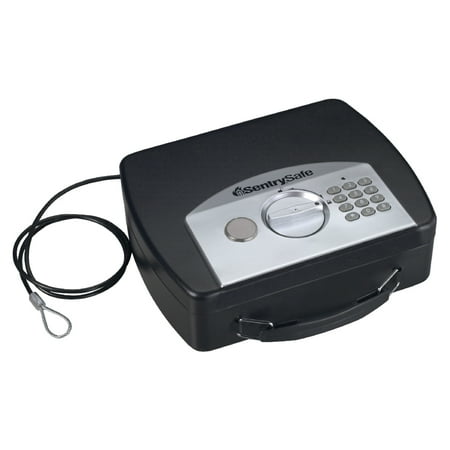 SentrySafe P008E Portable Security Safe is designed with you in mind. The P008E offers added security for your irreplaceable items with a digital lock, steel tethering cable, and override key. Complete with a carrying handle, this safe is ideal for protecting your most valuable compact possessions including cell phones, wallets, keys, iPods, and more.
Safe P008E Portable Security Safe, 0.08 cu. ft., Black:Protect your most valuable compact possessions including cell phones, wallets, keys and more
Digital safe includes an override key and tethering cable to attach to fixed objects for added security
Portable security safe features a soft interior lining that ensures your fragile or delicate valuables are protected from scratches
Equipped with a convenient, carrying handle so you can transport your safe with ease
Exterior Dimensions: 2.9 in. H x 10 in. W x 7.9 in. D; Interior Dimensions: 1.9 in. H x 9.8 in. W x 7.1 in. D; Capacity: 0.08 cu. ft.; Weight: 3.200 lb.
Customer Reviews
Great security storage for car or small spaces.
Perfect fit for my pistol and other valuables. Sentry makes good Security cabinets and safes. This is a security storage compartment. It will provide enough security to delay the common crook. It is by no means impenetrable, but it does what it was intended to do.Louisiana504
Sentry Compact Electronic Safe is a Great Buy
The Sentry Compact Electronic Sae is an Excellent device for safely storing Guns and other potentially dangerous things from children. It is easy to set up and even easier to use. When you need it just put in your code, turn the knob and presto the spring loaded lid pops open and you are done.WascalwyWabbit
GREAT electronic box for the money
it would be opened with tools quickly, but works well for privacy reasons

it is very lightweight and the combination can be set to your preference.

comes with cable

I think for the money, this is a great lightweight lockbox

know that he electronic beeps when using the keypad cannot be turned off-

uses 4 AA batteries

I use it to lock up meds when children are around.
You may also be interested in