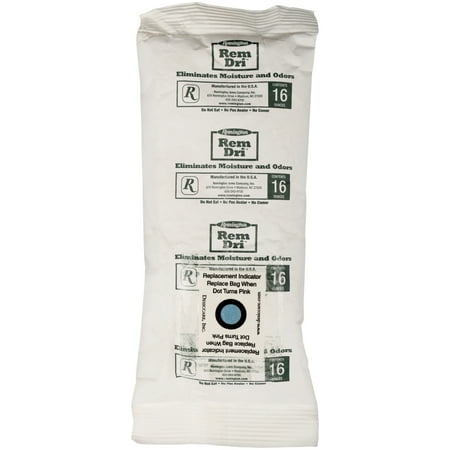 Keep moisture, humidity, and odor away from your firearms, ammo, and gear with Remington Rem Dri 35. This desiccant pack is the ideal addition to your storage lockers, gun cases, ammo containers, and any other small area you need to keep dry. This non-toxic desiccant comes in a durable, leak proof, and tear resistant bag that features a color changing indicator dot when it?s time for replacement. Rem Dri 35 can be recharged for indefinite reuse by heating in an oven, so you won?t have to discard it and buy more, and its passive design ensures it will work away from electricity. Ensure your firearms and ammo are well protected from humidity and ready for perfect performance with the reusable and reliable Remington Rem Dri 35.
Can keep up to 35 cubic feet dehumidified
Indicator dot alerts you when bag is saturated
Sturdy, tear resistant Tyvek bag
Helps protect your weapons and ammunition from rust, mildew, and moisture
Can be recharged in oven (3 hrs @ 200ºF) for reuse
Best protection if placed on top shelf/highest point of storage locker
Customer Reviews
Great drying agent
I especially like the in the pouch sensor. I do hope that it can be reset by warming it when the senor turns pink.
Exactly what every safe needs.
You can even bake it to "reset" the product, so it should last a few years.aztroy
desiccant
Well made nice quality and fast delivery would buy againchaz
You may also be interested in