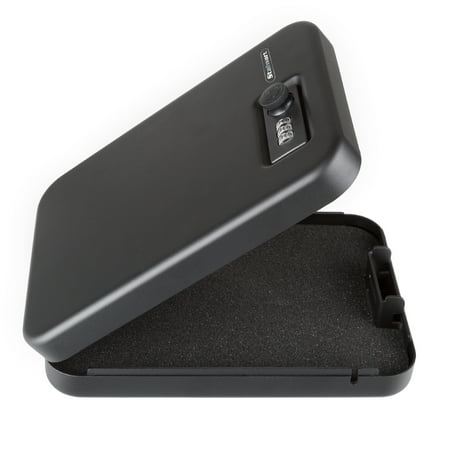 Keep your cash, jewelry and standard sized pistol safe and secure while traveling with the Portable Gun Safe by Stalwart. This safe has a compact design that is perfect for keeping in your trunk or under the seat of your car or truck or in a desk drawer. The cam-style combination lock can be set with a 3-digit code and features a turning knob for quick and easy access to your gun or valuables. The interior of this lockbox is lined with stiff foam to keep the contents in place during transport or a disaster. Included with the safe is a 1500-pound test steel tether cable for attaching the box to any stationary object to deter a smash-and-grab in your car or the safe being stolen from your home and opened elsewhere. The body of the safe is made of 1.2 mm thick, 18-gauge steel for strength and stability. This portable safe is great for keeping your valuables secure while travelling, and keeping your guns out of reach of little hands. SATISFACTION GUARANTEED- Stalwart is committed to providing the consumer with the absolute best price and value on all of our products, which we ensure by applying a rigorous quality control process. NOTE: This is an exclusive product of Stalwart and ONLY Portable Gun Safes by Stalwart are GUARANTEED to be genuine IMPORTANT: Avoid buying counterfeit products and transacting with unauthorized sellers. Look for our logo on the packaging for every one of our products. Stalwart is a registered trademark protected by U.S. Trademark law and will be vigorously defended.
RUGGED CONSTRUCTION- This lockbox features 1.2 mm thick, 18-guage steel walls and concealed door hinges to you can be sure whatever is inside is protected. The thick foam padding offers extra stability.
TETHER CABLE- The safe comes equipped with a 1500-pound test steel tether cable for securing the box to a stationary object. This prevents a smash-and-grab from your car, or the box being stolen from your home and opened elsewhere.
PORTABLE- The compact design of this safe makes it perfect for business or vacation travel. It can fit in the trunk of your car, under a seat, or in an under-seat storage bin.
ANALOG CAM LOCK- The lock for this portable safe has three numeric cams for setting a three-digit pin. The analog cams make for quick and easy access to your gun or valuables without having to worry about a key, or dead batteries during emergencies.
PRODUCT DETAILS- Materials: 1.2mm Thick 18 Gauge Steel. Exterior Dimensions: 9.5" L x 6.5" W x 1.8" H. Interior Dimensions: 9.25" L x 6.25" W x 1.35" H.
Customer ReviewsYou may also be interested in