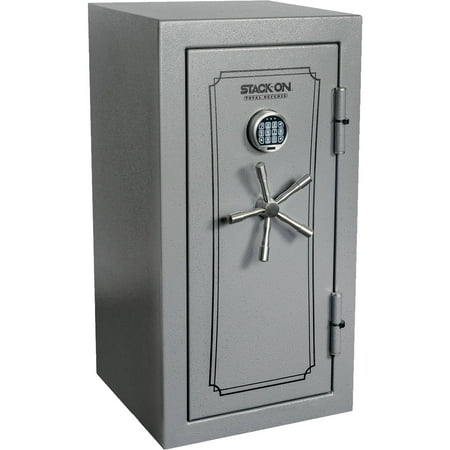 | | |
| --- | --- |
| Brand Name | Generic |
| Model | TD-040-GP-E |
| Rating | |
| Reviews | No reviews yet |
Total Defense safes are engineered to protect your valuables from fire and flood while offering user-friendly features. The robust 75 minute, 1400 degrees Fahrenheit fire rating and 72 hour, two-foot waterproof rating ensures your valuables are safe from any threat. This 36–40 gun capacity safe features a backlit electronic lock; a brushed nickel five-spoke handle moves seven solid-steel live-action locking bolts, that combined with three deadbolts, secure the door on all four sides from prying theft. The fully-adjustable interior of the Total Defense safe includes three adjustable-position barrel rests and five adjustable-position shelves, allowing custom configurations to best suit your needs. Use the high capacity barrel rests for maximum gun capacity, the U-shaped barrel rests for easy access, or combine both. This safe also includes a factory-installed door organizer with sewn-in gun holsters, zippered pouches, and Molle compatible storage.
Executive with Elec. Lock, Fire Rated 90 Min/1400 Degrees, Gray Pebble:
Total Defense safes are engineered to protect your valuables from fire and flood while offering user-friendly features
The robust 75 minute, 1400 degrees Fahrenheit fire rating and 72 hour, 2-foot waterproof rating ensures your valuables are safe from any threat
This 36-40 gun capacity safe features a backlit electronic lock; a brushed nickel 5-spoke handle moves seven solid-steel live-action locking bolts, that combined with 3 deadbolts, secure the door on all four sides from prying theft
The fully-adjustable interior of the Total Defense safe includes 3 adjustable-position barrel rests and five adjustable-position shelves, allowing custom configurations to best suit your needs
Use the high capacity barrel rests for maximum gun capacity, the U-shaped barrel rests for easy access, or combine both
This safe also includes a factory-installed door organizer with sewn-in gun holsters, zippered pouches, and Molle compatible storage
The factory-installed electrical outlet conveniently powers dehumidifiers, lighting kits, and other in-safe accessories
Total Defense safes from Stack-On, Total protection from flood, fire, and theft
You may also be interested in